Here you will find the ultimate porch furniture recommendations for transforming your outdoor space into a relaxing and stylish oasis. From cozy seating options to weather-resistant materials, find the perfect furniture to elevate your porch decor.
If you are looking to spruce up your porch and create an inviting outdoor retreat, look no further! In this comprehensive guide, we will provide you with a range of porch furniture recommendations that will help you design the perfect oasis for relaxation and entertainment. From comfortable seating options to durable materials, we have got you covered. So, grab a cup of your favorite beverage and let's dive in!
Why is Porch Furniture Important?
Before we delve into the porch furniture recommendations, let's understand why investing in quality furniture for your porch is essential. Your porch serves as an extension of your living space, providing an outdoor sanctuary for relaxation, socializing, and enjoying nature. Choosing the right furniture not only enhances the aesthetic appeal but also ensures comfort and functionality.
Seating Options for Every Style and Comfort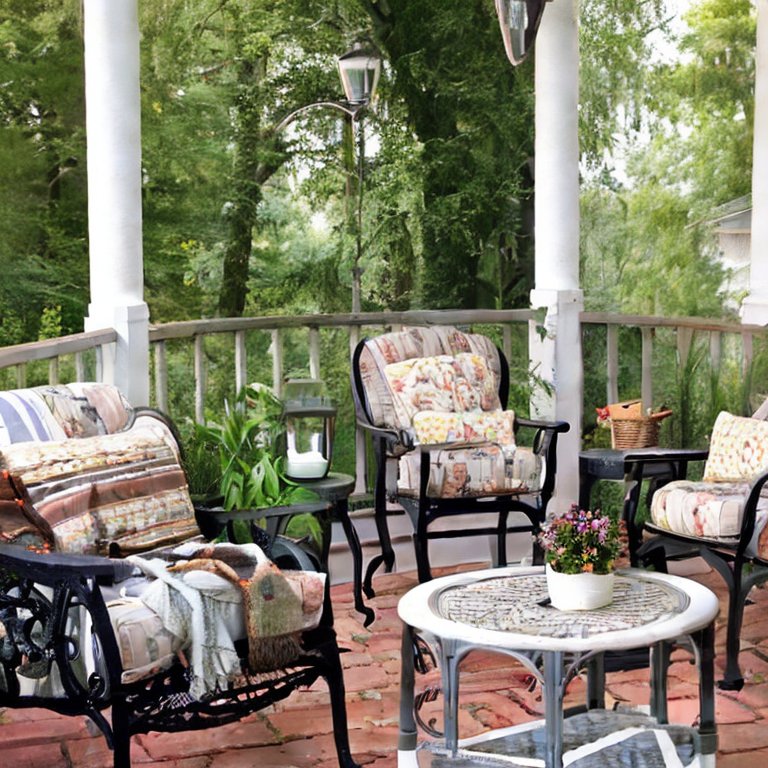 Cozy Porch Swing: The Classic Touch
Looking to add a touch of nostalgia to your porch? A porch swing is the perfect choice. The gentle sway of a swing brings a sense of tranquility, making it an ideal spot to unwind after a long day. Opt for a porch swing with a cushioned seat and backrest for ultimate comfort.
Adirondack Chairs: Rustic Charm
If you love the rustic charm of wooden furniture, Adirondack chairs are a must-have for your porch. These timeless pieces feature a slanted back and wide armrests, providing exceptional comfort. Choose chairs made from weather-resistant wood or opt for modern variations crafted from durable plastic or metal.
Lounge Chairs: Relaxation Station
For those seeking ultimate relaxation, lounge chairs are a fantastic option. Sink into a plush cushioned lounge chair and let the stress melt away. Look for chairs with adjustable backs, allowing you to find the perfect reclining position. Pair them with an ottoman for extra comfort and a touch of luxury.
Materials Built to Endure the Elements
Wicker Furniture: Classic Elegance
Wicker furniture adds a touch of timeless elegance to any porch. Made from woven natural or synthetic fibers, wicker furniture is both durable and weather-resistant. Its lightweight nature allows for easy rearrangement and storage. Pair wicker chairs with colorful cushions for a pop of style.
Aluminum Furniture: Sleek and Modern
Aluminum furniture is a popular choice for modern porches. Its sleek design, lightweight structure, and rust-resistant properties make it an ideal option for outdoor use. Aluminum furniture is available in a variety of styles and finishes, allowing you to find the perfect match for your porch decor.
Teak Furniture: Beauty and Durability
If you seek a luxurious and long-lasting option, teak furniture is worth considering. Teak wood is highly resistant to moisture, insects, and rot, making it perfect for outdoor furniture. Its natural oils give it a beautiful, warm hue that enhances the overall aesthetic of your porch.
Are there eco-friendly porch furniture recommendations available?
In today's environmentally conscious world, it's important to consider eco-friendly options when it comes to porch furniture. Thankfully, there are plenty of sustainable choices available that allow you to enjoy the beauty of your porch while minimizing your ecological footprint. Let's explore some eco-friendly porch furniture recommendations that will make your outdoor space both stylish and environmentally responsible.
Bamboo Furniture: Nature's Renewable Resource
Bamboo furniture is a fantastic choice for eco-conscious porch owners. This fast-growing plant regenerates quickly, making it a highly sustainable material. Bamboo furniture offers a natural, earthy aesthetic while being strong and durable. Its natural resistance to pests and moisture makes it ideal for outdoor use. So, kick back and relax on your porch knowing that you've made an environmentally friendly choice.
Recycled Plastic Furniture: Turning Waste into Wonder
Recycled plastic furniture is a brilliant option for those seeking eco-friendly porch furniture. Made from post-consumer plastic waste, this furniture helps reduce landfill waste and pollution. Don't let the term "plastic" fool you—recycled plastic furniture can mimic the look of wood or other materials, offering a stylish and sustainable choice. It is easy to clean, weather-resistant, and requires minimal maintenance, allowing you to enjoy your porch without worrying about tedious upkeep.
Which porch furniture recommendations offer easy maintenance and cleaning?
Maintaining and cleaning porch furniture shouldn't feel like a chore. To make your life easier, there are furniture options available that require minimal effort to keep them looking their best. Let's explore some porch furniture recommendations that offer easy maintenance and cleaning, allowing you to spend more time relaxing and less time scrubbing.
Aluminum Furniture: A Breeze to Clean
Aluminum furniture is not only sleek and modern but also incredibly easy to maintain. Thanks to its non-porous surface, all you need is a simple wipe-down with mild soap and water to keep it clean and looking fresh. With its rust-resistant properties, you won't have to worry about leaving it exposed to the elements. Say goodbye to endless scrubbing and hello to more quality time on your porch.
Resin Wicker Furniture: Weather-Resistant Convenience
Resin wicker furniture offers the charm of traditional wicker but with added durability and easy maintenance. Resistant to fading, cracking, and peeling, this furniture can withstand various weather conditions without losing its beauty. Cleaning is a breeze—simply wipe it down with a damp cloth or hose it off for a more thorough clean. Spend less time worrying about maintaining your porch furniture and more time enjoying the outdoors.
Can you recommend porch furniture for creating a relaxing reading nook?
If you're a bookworm looking to create a cozy reading nook on your porch, we've got you covered! Transforming your porch into a tranquil oasis for reading doesn't have to be complicated. With the right porch furniture, you can create a space that invites you to dive into your favorite books and escape reality. Let's explore some recommendations for porch furniture that will help you create the perfect relaxing reading nook.
Comfy Outdoor Lounge Chair: Sink Into Serenity
When it comes to creating a reading nook, a comfortable lounge chair is essential. Look for a plush, cushioned outdoor lounge chair that you can sink into, allowing you to fully immerse yourself in your reading material. Choose one with an adjustable backrest, so you can find the perfect angle for ultimate relaxation. With a refreshing beverage by your side, you'll be able to lose yourself in a captivating story right on your porch.
Ottoman or Footrest: Put Your Feet Up
Enhance the comfort of your reading nook by adding an ottoman or a footrest. This little addition allows you to kick back and put your feet up while getting lost in the pages of a book. Look for an ottoman that matches your lounge chair or create a cozy DIY solution by repurposing a vintage crate or a pouf. Your feet will thank you as you indulge in hours of reading bliss.
What are the best porch furniture recommendations for coastal environments?
Living near the coast brings the joy of refreshing sea breezes and stunning views, but it also requires porch furniture that can withstand the coastal elements. Salt air, high humidity, and strong winds can take a toll on furniture if not chosen wisely. To ensure your porch furniture can withstand the coastal environment without sacrificing style, here are some top recommendations for coastal living.
Teak Furniture: Coastal Elegance and Durability
Teak furniture is an excellent choice for coastal environments due to its natural resistance to moisture, insects, and rot. Its durability makes it ideal for outdoor use, even in salty coastal areas. Teak furniture also adds a touch of coastal elegance to your porch with its warm hues and timeless appeal. Over time, it gracefully weathers to a beautiful silver-gray patina, adding to its coastal charm.
Aluminum or Stainless Steel Furniture: Rust-Resistant Reliability
Coastal areas are notorious for salt air, which can accelerate rusting on certain metals. Opting for aluminum or stainless steel furniture is a smart choice as these materials are rust-resistant and can withstand the coastal elements. Aluminum furniture is lightweight and easy to move around, while stainless steel offers sleekness and durability. Both options come in a variety of styles and finishes, allowing you to find the perfect match for your coastal porch.
What are the best porch furniture recommendations for small spaces?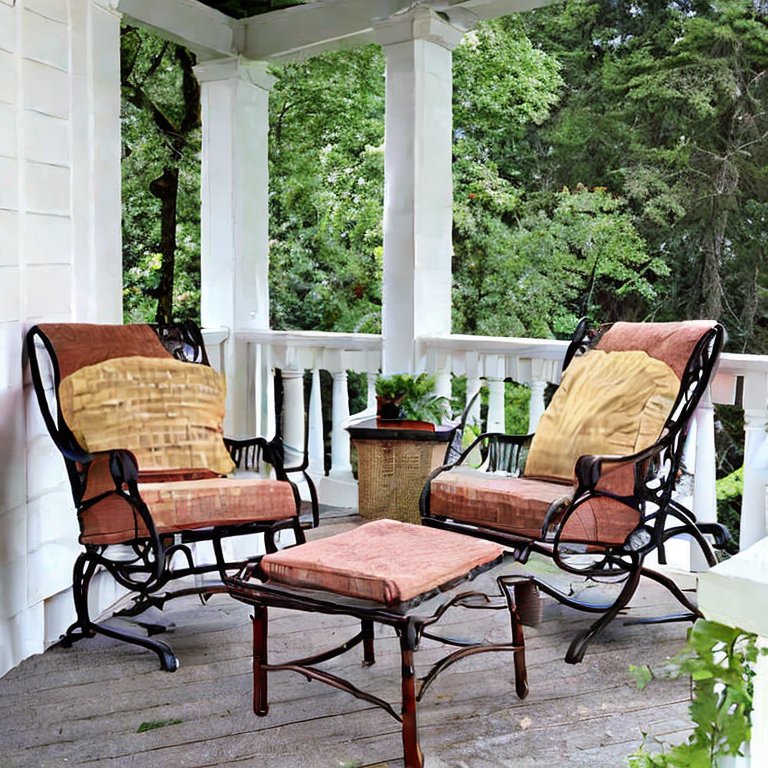 When it comes to small spaces, optimizing every square inch is crucial. But that doesn't mean you have to sacrifice comfort or style on your porch. With the right porch furniture recommendations, you can transform your compact outdoor space into a cozy and inviting haven. Let's explore some of the best furniture options for small porch spaces.
Folding Bistro Sets: Space-Saving Charm
If you have limited space on your porch, a folding bistro set is a fantastic choice. These sets typically include a compact table and two chairs that can be easily folded and stored when not in use. They offer functionality without compromising style, adding a touch of charm to your small porch. Opt for lightweight materials like aluminum or resin for easy maneuverability.
Hanging Chairs or Hammocks: Vertical Relaxation
For a unique and space-saving seating option, consider hanging chairs or hammocks. These suspended seats provide a cozy and relaxing experience while taking up minimal floor space. Install a sturdy hook or anchor on your porch ceiling or use a freestanding hammock stand to enjoy swinging bliss. Curl up with a good book or simply enjoy the gentle sway while sipping a refreshing beverage.
Which porch furniture recommendations are suitable for a modern aesthetic?
If you're drawn to sleek lines, minimalist designs, and a contemporary vibe, incorporating modern porch furniture into your outdoor space is the way to go. Achieving a modern aesthetic on your porch doesn't have to be complicated. Let's explore some porch furniture recommendations that will perfectly complement your modern style.
Outdoor Sectional Sofa: Stylish and Functional
An outdoor sectional sofa is a must-have for creating a modern and inviting porch. Opt for a modular design that allows you to customize the layout to fit your space. Look for clean lines, neutral colors, and durable materials like weather-resistant fabric and powder-coated aluminum frames. Add some throw pillows in bold geometric patterns or vibrant hues to infuse a pop of personality.
Concrete or Metal Coffee Table: Industrial Chic
Complete your modern porch with a concrete or metal coffee table. These materials offer an industrial chic vibe that perfectly complements a modern aesthetic. Look for a sleek and minimalistic design that adds a touch of sophistication to your outdoor space. Pair it with a geometric patterned outdoor rug and some contemporary planters to create a cohesive and stylish look.
With space-saving furniture recommendations for small porches and modern furniture suggestions for a contemporary aesthetic, you can create a porch that reflects your personal style while maximizing comfort and functionality.
FAQs about Porch Furniture Recommendations
Q1. Can I leave my porch furniture outside during the winter months?
Absolutely! However, it is crucial to choose weather-resistant materials such as aluminum or teak that can withstand harsh winter conditions. Additionally, consider using furniture covers or storing cushions indoors to prolong their lifespan.
Q2. How can I maintain and clean my porch furniture?
Regular maintenance is essential to keep your porch furniture looking its best. Wipe down furniture regularly with a mild soap and water solution. Avoid using harsh chemicals that may damage the furniture's finish. If your furniture has cushions, check if they are machine washable or require spot cleaning.
Conclusion on Porch Furniture Recommendations
These porch furniture recommendations help in transforming your porch into an outdoor oasis. From classic porch swings to sleek aluminum chairs, there are endless options to suit your style and comfort preferences.
Remember to consider the materials' durability and weather resistance to ensure long-lasting enjoyment. So, go ahead and bring life to your porch with the perfect furniture pieces that will have you embracing the outdoors in style and relaxation.