Looking for ideas on how to decorate a long front porch? Discover creative tips and tricks to turn your outdoor space into a breathtaking oasis. Get inspired with our expert advice and make the most of your porch's potential.
Are you ready to give your long front porch a makeover? Your porch is the gateway to your home, offering an opportunity to showcase your personal style and create a welcoming ambiance. Whether you have a spacious wraparound porch or a narrow veranda, we've got you covered with a plethora of ideas on how to decorate a long front porch. From furniture arrangements to color schemes, we'll guide you through the process of transforming your outdoor space into a stunning oasis that will leave your neighbors in awe.
So, grab a glass of lemonade, kick back, and get ready to be inspired by our expert advice on how to make the most of your long front porch. Let's dive in and discover the secrets to creating a porch that will be the envy of the neighborhood!
Creative Tips on How To Decorate A Long Front Porch
Welcome to a world of boundless possibilities, where your long front porch transforms into a canvas of creativity! Get ready to unlock the secrets of captivating décor as we unveil a treasure trove of creative tips. From stunning symmetry to vibrant vignettes, join us as we embark on a journey to craft a long front porch that's simply irresistible. Step into a realm where every inch is a masterpiece and every guest is greeted with awe. Are you ready to make your porch the envy of the neighborhood? Let's dive in and discover the how to decorate!
Planning and Design Tips
Before diving headfirst into decorating your long front porch, it's essential to take some time for thoughtful planning and design. Here are some key tips to consider:
Measure Twice, Decorate Once: Start by measuring your porch's dimensions to determine the available space for furniture, plants, and decor. This step ensures that you select appropriately sized items that won't overwhelm or overcrowd your porch.
Identify the Purpose: Consider how you want to use your long front porch. Do you envision it as a cozy reading nook, a vibrant entertaining area, or a peaceful sanctuary? Identifying the purpose will help you choose the right elements to create the desired atmosphere.
Embrace the Flow: Think about the natural flow of your porch. Arrange furniture and decor in a way that promotes easy movement and encourages social interaction. Create distinct zones for lounging, dining, and other activities, ensuring a seamless transition between them.
Furniture and Seating Options
Choosing the right furniture and seating is crucial for creating a comfortable and inviting front porch. Here are some ideas to consider:
Rocking Chairs and Swings: There's nothing quite like the charm of rocking chairs or swings on a front porch. Opt for classic wooden rockers or go for a more modern look with metal or wicker swings. These pieces not only provide a cozy spot to relax but also add a touch of nostalgia to your porch.
Outdoor Sofas and Sectionals: If you have ample space on your long front porch, consider adding an outdoor sofa or sectional. These pieces offer plenty of seating for you and your guests, creating a comfortable and stylish lounging area. Add colorful cushions and throw pillows to enhance the visual appeal and provide extra coziness.
Bistro Sets and Café Tables: For smaller front porches, bistro sets or café tables are a perfect choice. These compact options provide a charming spot for enjoying a morning cup of coffee or a romantic dinner. Look for sets made from weather-resistant materials to ensure durability and longevity.
Hanging Hammocks and Daybeds: Take relaxation to the next level with a hanging hammock or daybed on your front porch. These suspended pieces provide a serene and luxurious experience, allowing you to unwind while enjoying the gentle breeze. Just imagine yourself curled up with a good book, swaying gently in the afternoon sun!
Lighting and Decorative Accents
To create an enchanting atmosphere on your long front porch, lighting and decorative accents play a vital role. Consider the following ideas:
String Lights and Lanterns: Add a touch of magic to your porch with string lights and lanterns. Hang them along the railing or drape them across the ceiling to create a warm and inviting glow. Choose soft, warm white bulbs for a cozy ambiance or go for colorful lights to add a festive vibe.
Potted Plants and Greenery: Bring nature to your porch with potted plants and greenery. Place them strategically to add pops of color and texture. Choose a variety of plant sizes and heights to create visual interest and dimension. Consider hanging baskets, window boxes, and vertical gardens for a vertical element that maximizes space.
Outdoor Art and Decor: Elevate your porch's aesthetic appeal with outdoor art and decor. Hang a beautiful wreath on the front door, display a vintage sign, or showcase a collection of decorative items on shelves or tables. Get creative and let your personal style shine through these eye-catching accents.
How to Decorate a Long Front Porch with Plants and Flowers?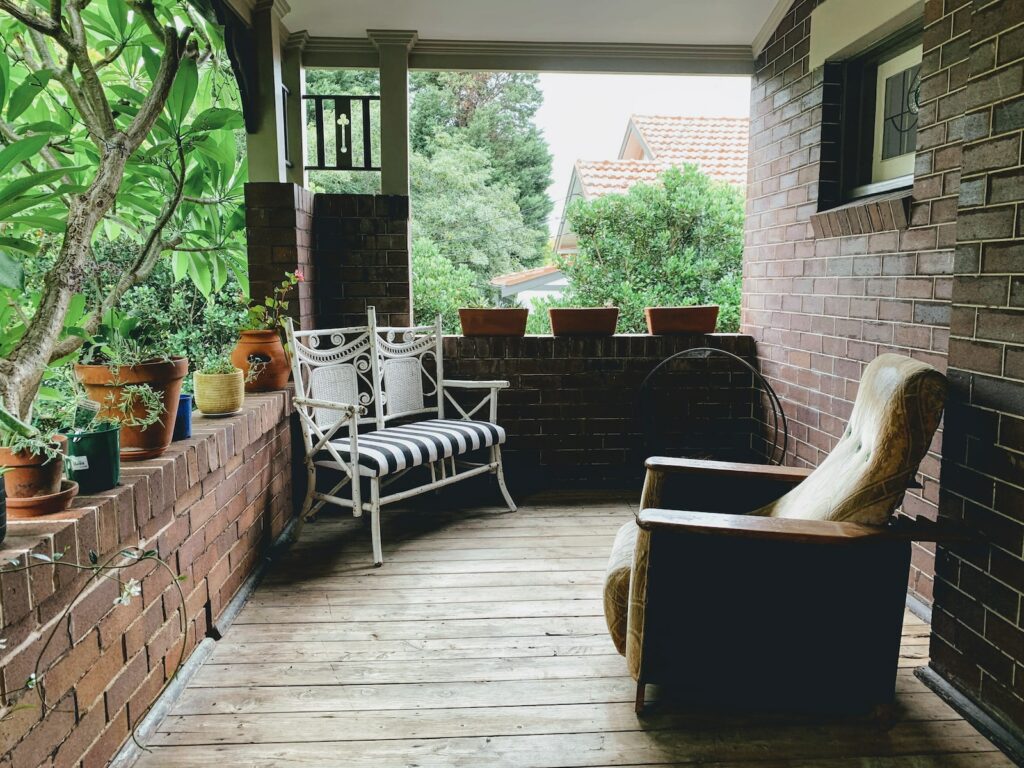 Long front porches have a unique charm that can be accentuated with the beauty of plants and flowers. With a little green thumb and a sprinkle of creativity, you can create a botanical haven that will leave your guests in awe. So, let's dive into the world of horticultural delight and discover how to decorate your long front porch with plants and flowers!
Start with Strategic Placement
Position tall plants at the corners to add vertical interest and create a sense of enclosure.
Place cascading plants, like ivy or trailing flowers, near railings or edges to add a touch of whimsy.
Mix and Match Colors and Textures
Opt for a variety of plants and flowers in complementary hues to create a vibrant and visually appealing display.
Combine different foliage textures, such as broad leaves with delicate ferns, to add depth and visual interest.
Create Layers of Greenery
Use plant stands or shelves to create vertical layers of plants, adding dimension and maximizing space.
Hang baskets or install wall-mounted planters to add a lush backdrop and utilize vertical surfaces.
Consider Seasonal Blooms
Plan your plant selection to ensure a year-round display of colors and blooms, adjusting according to the seasons.
Incorporate seasonal favorites like tulips in spring, sunflowers in summer, or chrysanthemums in fall for a dynamic porch display.
Don't Forget the Pots and Containers
Select stylish pots and containers that match your porch's aesthetic, enhancing the overall visual appeal.
Experiment with different sizes and materials, like terracotta, ceramic, or reclaimed wooden crates, for added character.
With these tips in mind, you can unleash your inner gardener and transform your long front porch into a blooming paradise. Let nature's symphony serenade your senses as you relax in the embrace of your plant-filled oasis.
How to Decorate a Long Front Porch for Different Architectural Styles?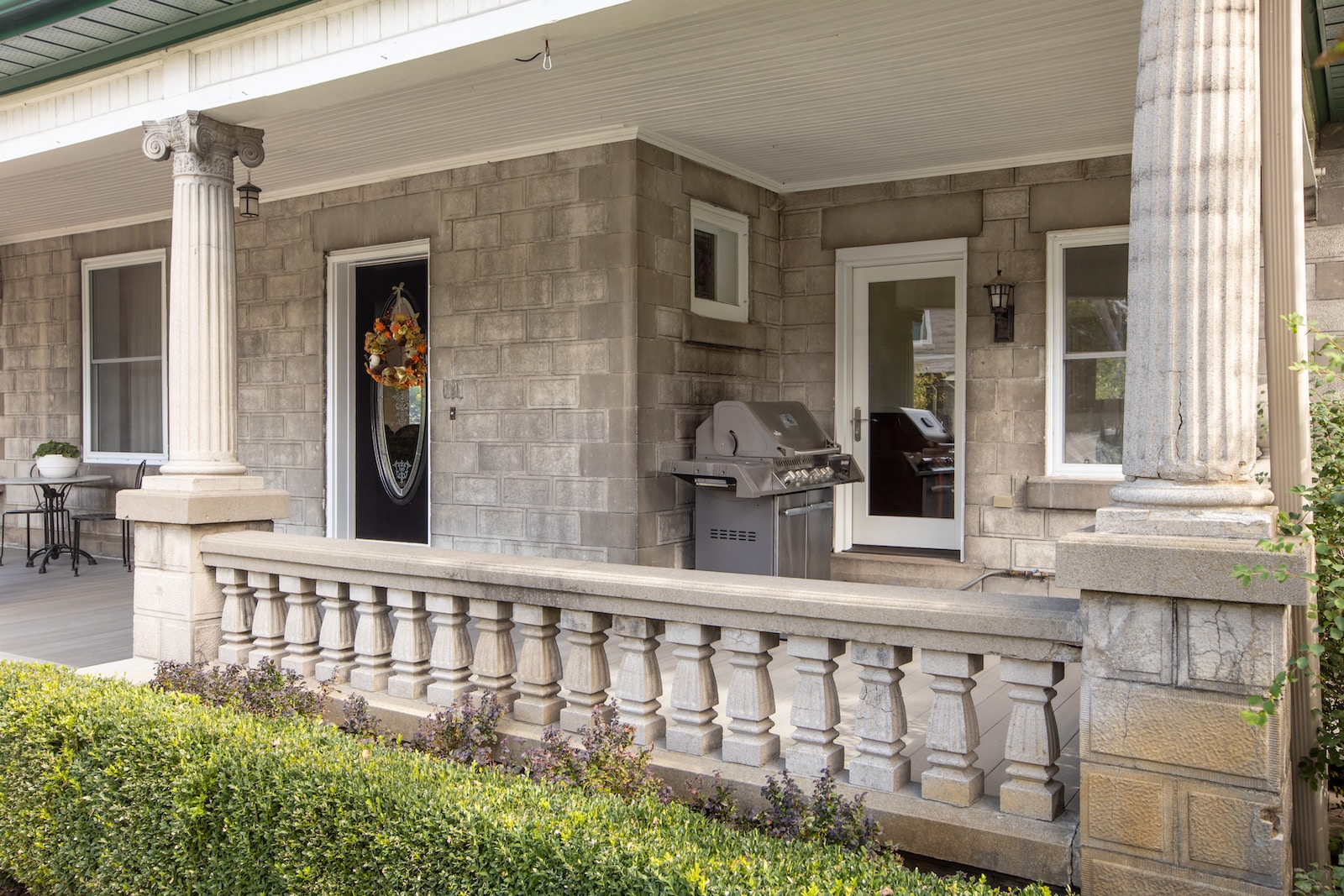 A long front porch presents a splendid opportunity to harmonize your outdoor space with the architectural style of your home. Whether your dwelling boasts a charming Victorian facade or exudes the sleek lines of modern design, let's explore how to decorate your long front porch to complement its unique architectural style.
Traditional Elegance for Colonial Homes
Opt for classic elements such as white railings, porch swings, and rocking chairs to capture the essence of Colonial design.
Decorate with symmetrical arrangements of potted plants and flower-filled window boxes for a touch of timeless charm.
Rustic Warmth for Farmhouse Dwellings
Embrace a cozy farmhouse vibe by incorporating weathered wood elements, such as rocking chairs or a reclaimed wooden bench.
Adorn your porch with hanging planters filled with lush greenery and wildflowers, adding a touch of natural rustic beauty.
Modern Simplicity for Contemporary Houses
Choose sleek and minimalistic furniture with clean lines, like modern outdoor loungers or a streamlined dining set.
Decorate with geometric planters and architectural plants like succulents or ornamental grasses for a contemporary touch.
Coastal Charm for Beachside Residences
Opt for breezy and light decor, such as white wicker furniture or Adirondack chairs, evoking a relaxed coastal atmosphere.
Accentuate your porch with seashell-filled bowls, nautical-themed accessories, and vibrant blue and turquoise accents.
Mediterranean Flair for Tuscan-Inspired Homes
Incorporate wrought iron furniture, such as a bistro set or a decorative bench, reminiscent of the romantic Tuscan countryside.
Adorn your porch with terra cotta pots filled with Mediterranean herbs like rosemary and lavender, infusing the air with delightful scents.
By aligning your front porch decor with the architectural style of your home, you create a harmonious visual experience that welcomes both residents and visitors. Let your long front porch become a reflection of your dwelling's unique personality and allure, transporting you to a world where architecture and design seamlessly intertwine.
Frequently Asked Questions About How To Decorate A Long Front Porch
Q: How do I maintain my porch decor throughout the seasons?
A: To maintain your porch decor year-round, opt for versatile pieces that can be easily updated. Swap out cushions, pillows, and accessories to match the changing seasons. Consider seasonal wreaths, garlands, and porch rugs to add a festive touch.
Q: How can I add privacy to my long front porch?
A: If privacy is a concern, incorporate tall plants, trellises, or outdoor curtains to create a sense of seclusion. These elements not only provide privacy but also enhance the visual appeal of your porch.
Q: What are some budget-friendly ideas for decorating a long front porch?
A: If you're on a budget, consider DIY projects like repurposing old furniture, creating your own outdoor artwork, or transforming inexpensive finds with a fresh coat of paint. Thrift stores, yard sales, and online marketplaces can also be great sources for affordable porch decor.
Conclusion on How To Decorate A Long Front Porch
Your long front porch holds endless possibilities for creating a captivating outdoor space that reflects your style and personality. By following the tips and ideas we've explored, you can turn your porch into an oasis that beckons you to relax, socialize, and enjoy the beauty of the outdoors. So, gather your inspiration, unleash your creativity, and embark on a delightful journey to decorate your long front porch. Get ready to welcome guests, sip lemonade, and bask in the joy of a well-designed and inviting outdoor haven.